Over the years customers have requested many recipes, among them the farina dolce is a particular favorite. So much a favorite, in fact, that Santina had the recipe printed so it was always available. We will be adding several more of the most requested recipes in the future so please check back soon. And if you have a recipe you'd like us to share, please e-mail us and we will do our best to honor your request.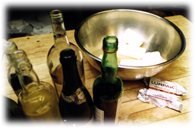 Farina Dolce recipe follows:

FARINA DOLCE
1 qt. milk
3/4 cup Cream of Farina
6 Tsp. sugar
1 lemon peel--grated
1 orange peel-- grated
2 Tsp. butter
2 whole eggs
dry unseasoned breadcrumbs
Boil milk with sugar, lemon and orange peels.
Add farina and stir, using whip.
Lower heat and continue to cook for 3 - 4 minutes or until thickened.
Remove from stove and add butter.
Stir until well blended.
Pour on greased cookie sheet and let cool.
When cooled, slice into one inch strips.
Dip in flour, eggs and breadcrumbs.
Deep fry until golden brown.


Yield: approximately 6 - 8 servings.